Certified Debriefer Resources
Check out all the resources we've put together for you!  We'll be adding to this from time to time or upgrading the tools and handouts so remember to check back.
Immediately below are the Debriefing Retreat tools.  If you need some other tools, click on one of these buttons to jump straight to them.
Here are the primary tools you'll need to debrief individuals or to run a Debriefing Retreat.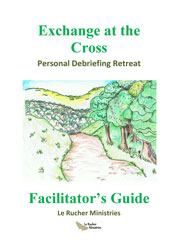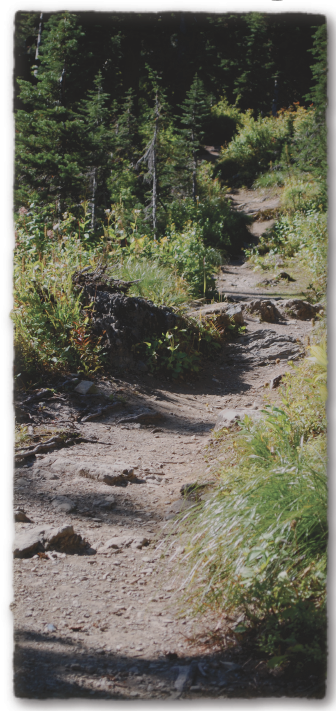 Emmaus Walk Handout
Luke 24:13-35 with picture.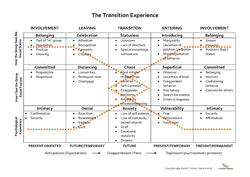 The Transition Experience Handout

The Concept of Loss Handout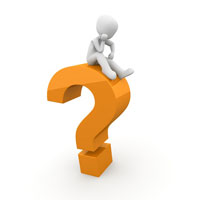 Identifying Inner Loss Questions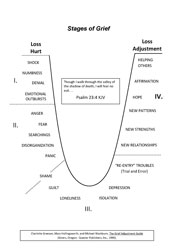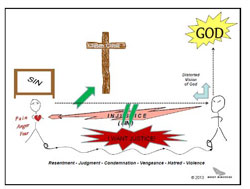 Evaluation of my Debriefing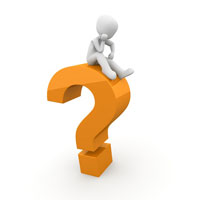 Peer Supervision Focus Questions

Depending on what comes up in your debriefing, you may find some of these tools useful to include. 

Balanced Living
A worksheet for a systematic evaluation of priorities and strategy for managing workload.

A Lifestyle of Being or Doing
Self-Assessment form that helps a person look at their view of themselves in areas of identity, value and significance.
WHEN TO USE IT:
With work or task-oriented/driven people. Encouraging reflection on identity, worth or value.

Beliefs Inventory
Worksheet with 14 beliefs that can be affected particularly as a result of a traumatic experience.
WHEN TO USE IT:
With individuals who have experienced a traumatic or other event that has challenged their beliefs and assumptions about life and their faith.

Bigger-Than-Self-Goals
Stress tends to narrow our focus.  Worksheet to help an individual refocus on God's purposes, calling and the bigger picture.
WHEN TO USE IT:
With individuals who are facing ongoing stressful situations.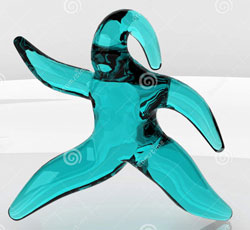 Blob Bridge
Blob Transition Bridge
WHEN TO USE IT:
With people in transition, especially children, to help them talk about where they are in their transition and where they want to be.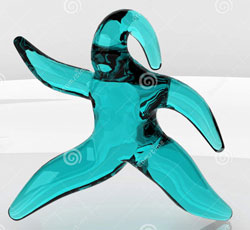 Blob Tree
WHEN TO USE IT:
Use with teams or individuals to help talk about team dynamics.  Identify where they are and where they would like to be.

Burnout Inventory
Self-evaluation to assess level of burnout
WHEN TO USE IT:
High stress or potential burnout situations. Encourages self-awareness of responses and stresses, validates and normalizes burnout symptoms.

Cultural vs. Biblical View of Suffering
Worksheet with often held cultural views of suffering in comparison to Biblical views.
WHEN TO USE IT:
With individuals who need to reflect on their views of suffering.  Aids in identifying areas of growth for a more Biblical view of suffering.

Context vs. Content Communication
Compares communication characteristics of high context and high content cultures. Includs a rough spectrum of general communication tendencies of different countries.
WHEN TO USE IT:
In situations of cultural conflict or culture stresses, cross-cultural team dynamics to bring awareness of communication styles of different cultures.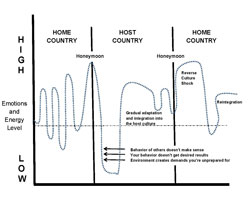 Cycle of Adaptation
Normal cross-cultural adjustment pattern
WHEN TO USE IT:
To normalize and validate cross-cultural worker's adjustment to the field or re-entry to home culture.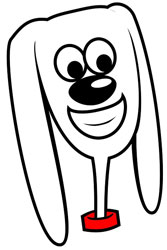 Emotion Doggies
Dog faces depicting different emotions
WHEN TO USE IT:
Debriefing children to help them talk about their emotions, particularly when they heard they were leaving/changing field country.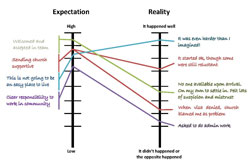 Expectation-Reality Gradient
Helps compare differences between expectations and how they are met
WHEN TO USE IT:
In situations of repeated disappointments

Family Support Exercise
Grid for family to fill out to help identify stress reactions and support each other
WHEN TO USE IT:
With families; transition

Rethink Your Stress Response
A worksheet that introduces the stress responses that can work positively for a person and questions to help an individual grow in self awareness of their responses.
WHEN TO USE IT:
With individuals who are facing ongoing stressful situations.

Rethink Stress - What are Your Values?
A worksheet to help an individual reflect on values to help change attitudes and perspective in a stressful situation.
WHEN TO USE IT:
With individuals who are facing ongoing stressful situations.
Certification Tools and Forms
You'll need these if you are working with someone who wants to be certified

Certification Criteria
The 4 levels of certification and the criteria for each level 

Certification Application
Form required to filled out by applicant interested in being coached to become a certified debriefer

Coaching Evaluation
Evaluation after a debriefing retreat filled out by the trainee and debriefing coach

Certification Trainee Reference
Reference forms to be submitted with the application form.  Three are required, one from a ministry leader or pastor, and two from colleagues.

Certification Recommendation
Final form filled out by two coaches who are recommending a trainee who has demonstrated meeting the criteria for the certification level
Exchange at the Cross Debriefing
Certified Debriefer's Website Information
Fill out this entire form any time your information changes.  We must have it on file in order to post your data.
By filling out and submitting the form below, I agree that the below information will be listed on Le Rucher's website as a possible referral for debriefing.  
Find us:
We are physically located in France, only 15 minutes from the Geneva, Switzerland airport: 
2067 Route de Tutegny
01170 Cessy, France
Tel:  +33(0)450.28.03.81
Email:  info@lerucher.org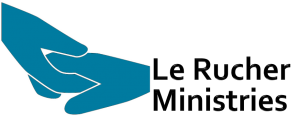 Copyright 2019, Mercy Ministries International.  All Rights Reserved.